25 – 28 May 2023 at the Palace of Culture and Science and Plac Defilad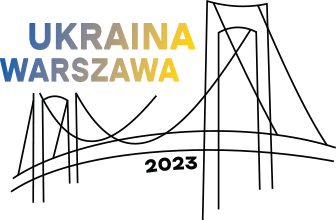 Meet Ukrainian authors who will meet the audience at the Warsaw International Book Fair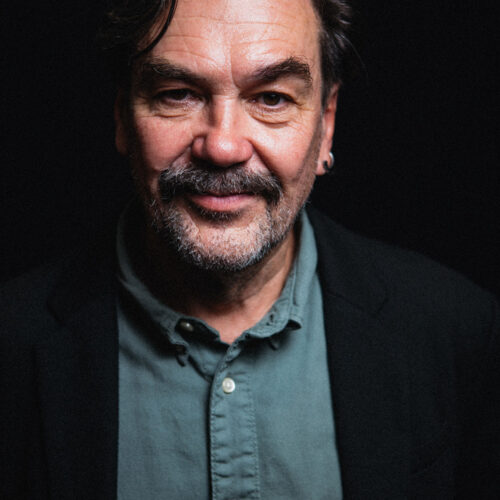 Yuri Andrukhovych (1960) – a distinguished Ukrainian poet, prose and essay writer, translator and vocalist. He co-founded the Bu-Ba-Bu poetic group, which stands for «burlesque, side-show, buffoonery» (Ukrainian: бурлеск, балаган, буфонада).  Polish readers are familiar with his novels Recreations, The Moscoviad, Perverzion , Twelve Rings and My Europe, a book of essays co-authored with the Polish writer Andrzej Stasiuk, to name just  a few. His books have been published in twenty languages. He has none translations from Polish, English and German. He has published five records with Karbido experimental group based in Wrocław, Poland. He is a winner of numerous European literary prizes and awards.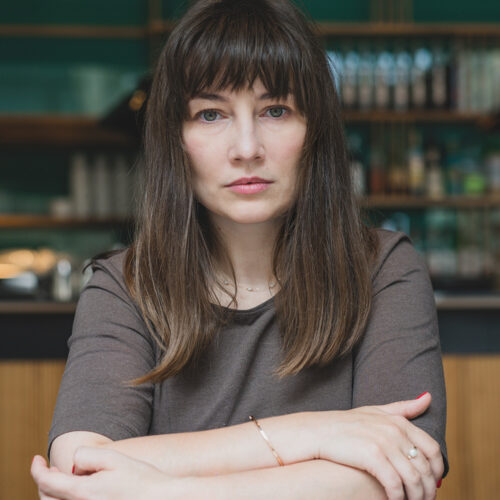 Kateryna Babkina is a Ukrainian poet, prose writer, columnist, screenwriter, and playwright. She's the author of five poetry collections (Lights of Saint Elm, 2002, The Mustard, 2011, Painkillers and Sleeping pills, 2014, Charmed for Love, 2017, It does not hurt, 2021), a novel (Sonia, 2013), a novel in short stories (My Grandfather Danced the Best, 2019) and two collections of stories (Lilu after you, 2008 and Happy naked people, 2016). She has also written four books for kids (The Pumpkin year, The Hat and the Whale, Girls Power (co-authored with Mark Livin), and Snow heaty which are extremely popular in Ukraine.
Her writings have been translated into English, Swedish, Polish, German, Hebrew, French, Spanish, Romanian, Czech, and Chinese. Her plays have been staged in Kyiv, Vienna, and Geneva. Translated books: poetry collection Ask for the same for all (Haver Laet Publishing House, Israel), novel Sonia (Warsztaty Kultury, Poland), novel Heute Fahre Ich nach Morgen (Haymon Verlag, Austria), a collection of short stories Szczęśliwi nadzy ludzie (Warsztaty Kultury Publishing House, Poland), Happy naked people (VINTAGEbooks, Cyprus), Nikt tak nie tańczył jak mój dziadek (Warsztaty Kultury Publishing House, Poland), Cappy and the Whale (Penguin Random House), Nie boli (2023, Poland) translated by Bohdan Zadura, and others. The collection of poems Nie boli is based on the Ukrainian collection "It does not hurt", but poems from the time of the full-scale invasion of 2022-2023 were added
Kateryna Babkina has written columns for Esquire Ukraine, Le Monde, and Harper's Bazaar. Her poetry was published in a number of anthologies and almanacs (The Kenyon Review (USA), Poem (UK), Washington Square Review etc).
There are several short movies based on Kateryna Babkina's stories. In 2016 a short film by her script was screened at Cannes Film Festival in the young director's selection.
In 2021 Kateryna Babkina won the Angelus Central European Literature Award for the My grandfather danced better than anyone else published in the Polish language. In 2022, Kateryna's novella for children "Cappy and the Whale" was published in translation by Penguin Random House, UK.
In April 2023, the novella "Mom, do you remember?" was published in Ukrainian (Warstwy, Poland).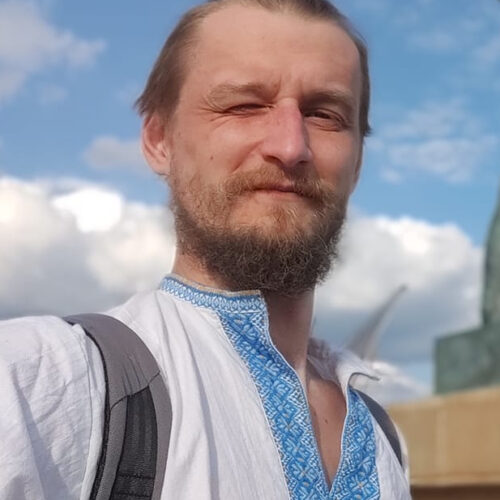 Producer of contemporary Ukrainian cultural products, producer of the series "The Will" and "The King's Will" in Poland
Dmytro is an experienced promoter of contemporary Ukrainian cultural products in Poland. With a passion for promoting the best of Ukrainian culture, Dmytro has introduced a range of exciting products to the Polish market, such as comic book series, board games and educational toys.
Before moving to Poland, Dmytro was the organizer of the biggest showcase of Ukrainian hi-tech innovative products and services, known as City of Future. His move to Poland did not dampen his love for promoting Ukrainian culture, and he works closely with The Will Production, one of the most prominent teams of comic book creators in Ukraine, known for their comic book series such as "The Will", "King's Will", and many others.
Dmytro's efforts are focused on fostering a deeper understanding of Ukrainian culture by showcasing and developing products that inspire and captivate the audience.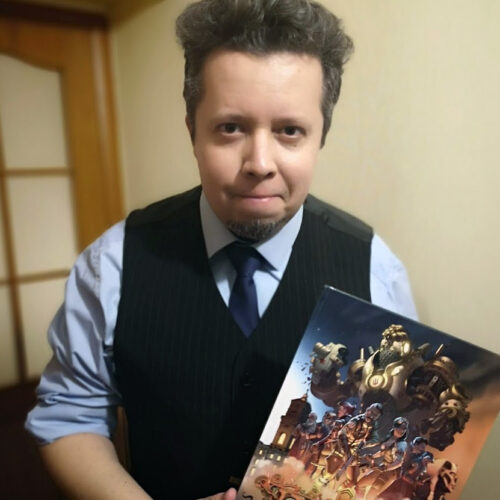 Author and comic book producer, co-founder of The Will Production
Viacheslav, a visionary and co-founder of The Will Production, a comic book publisher that has created many well-known series on alternative Ukrainian history. Together with his friends Denys Fadeev and Oleksandr Filipovych, Viacheslav co-created the comic book series "The Will" and "Prince's Will," which have gained popularity since their release in 2014 by offering a unique and engaging perspective on history.
Viacheslav is the co-creator of "Peremoha: Victory for Ukraine" a unique anthology of graphic stories from some of the best-known comics artists and writers. The comic book has helped raise significant funds to support Ukraine and has become one of the symbols of Ukrainian national identity and resilience. The stories included in the anthology show the ingenuity and determination of the Ukrainian people to win the war.
As both an author and producer, Viacheslav has been responsible for the development of more than 10 comic book series.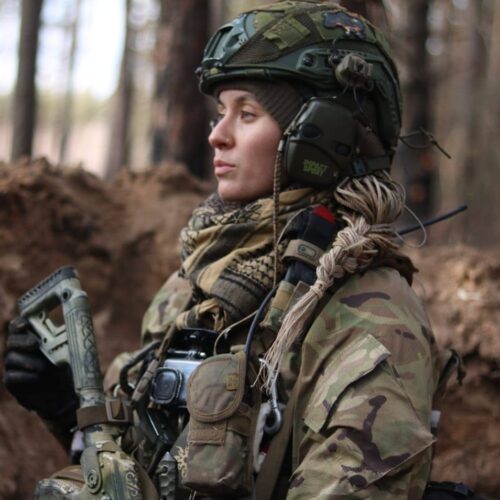 Yaryna Chornohuz (1995) is a Ukrainian activist and poet who joined the Ukrainian Armed Forces in 2019 before the full-scale Russian invasion. She traveled to Donbass during the so-called 'non-active' phase of the Russo-Ukrainian war, resulting in her belief that Russia won't stop unless Ukraine stops it.
Yaryna studied philology at the Ukrainian National University "Kyiv-Mohyla Academy", majoring in Ukrainian language and literature. She began to write poems long before the war, but her time in the service still led to poetic inspiration –  her debut poetry book was published in 2020.
Yaryna started her service in 2019 as a paramedic, and now serves in the marines. She wanted to join the Army immediately after Russia's aggression in 2014, but had just given birth, so decided to spend time raising her daughter. As the war proceeded, Yaryna was motivated to fight for her daughter's future in Ukraine.
When Russia invaded in February 2022, Yaryna was already in Donbass. During the full-scale war, she fought in furious battles near Popasna, Mariupol and Bakhmut.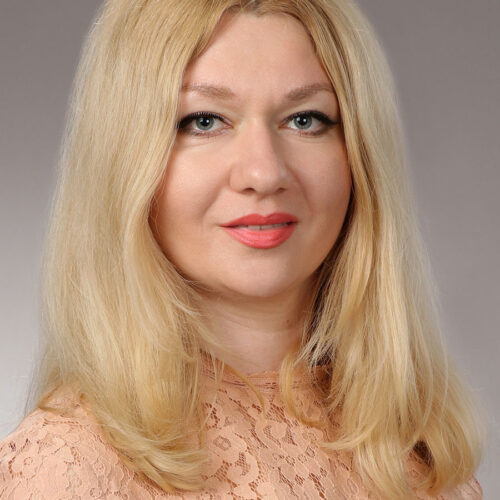 Іryna Danewska (1981) – ukrainian writer, author of 6 historical novels, published in Ukrainian, Russian, and Belarusian.
Direct speech: "The history of the sixteenth and seventeenth centuries – is the main heroine of my books. I love and respect her, and by telling simple and interesting stories about complex things, I can make the reader fall in love with the past"
Book list:
Jeremi Wisniowiecki . – Kiev : Tempora, to be published in 2023- 2024
Boguslaw Radziwill : General in the service of the king – Kiev: Tempora, 2022/ 2017
Boguslaw Radziwill : Princeps Іmperii. Kiev: Tempora, 2021/2016
4. Boguslaw Radziwill : Lord of the Regiomont. Kiev: Tempora, 2021
5. The Battle for France. Moscow, Veche, 2012/2013
6. The road to power. Moscow, Veche, 2011/2012
In 2014, for patriotic reasons, she stopped working with Russian publishers.
Translations:
Багуслаў Радзівіл: Генерал караля / Ірына Данеўская ; translated by Natalka Babina – Minsk: A. M. Yanushkevich, 2020.
Багуслаў Радзівіл: Нямецкі прынц з Вялікага Княства Літоўскага / Ірына Данеўская ; translated by Natalka Babina – Minsk: A. M. Yanushkevich, 2018.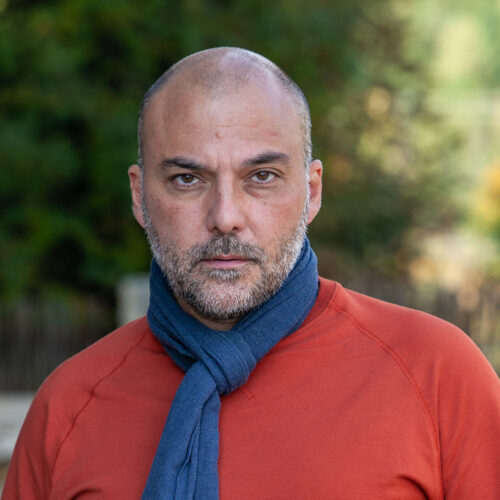 Vakhtang Kebuladze – philosopher, publicist, translator, Dr. habil., full professor at Taras Shevchenko National University of Kyiv, associate professor at National University of «Kyiv-Mohyla Academy», prize-winner of Ukrainian PEN International 2016, member of the board of Ukrainian Philosophical Foundation, co-chairman of Ukrainian Phenomenological Society, chairman of the editorial board of the book series "Library of Classical World Academic Thought" (Ukraine), member of Ukrainian PEN International, member of the editorial board of Philosophical Thought Journal (Ukraine), member of academic council of LIBRI VIRIDES book series (Germany), member of academic council of The Interlocutor Journal (Poland), member of the board of international organization "Central and East European Society for Phenomenology", member of the Council for Development of Art Arsenal (Ukraine).
Author of the books Phenomenology of Experience (in Ukrainian), Meshes of Fate (in Ukrainian) and more than 90 articles in Ukrainian, English, German, and Polish, which were published in Ukraine, Austria, Czechia, Germany, Lithuanian, Poland, Romania, Slovenia.
Co-author of the books Grounding for the Practical Philosophy (in Ukrainian), Philosophical Education in Ukraine: History and Modern Times (in Ukrainian), Öffentlichkeit und Demokratie in der Metamorphose (in German), Ukraine in Histories and Stories (in English), Future We Want [Edited by Vakhtang Kebuladze] (in Ukrainian), State of War (in Ukrainian).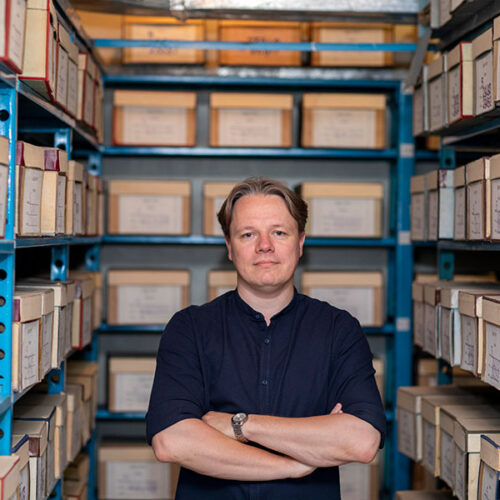 Dr. Andriy Kohut is a Director of the Sectoral State Archive of the Security Service of Ukraine. The Archive stores the largest collection of declassified KGB files. He received his Ph.D. in History from the Taras Shevchenko National University of Kyiv, and his M.A. in History from Ivan Franko Lviv National University. Was a Fulbright Scholar at Stanford University for 2021-2022. His academic and professional interests cover various topics related to Soviet deportations, communist secret services history, memory politics, and cultural diplomacy.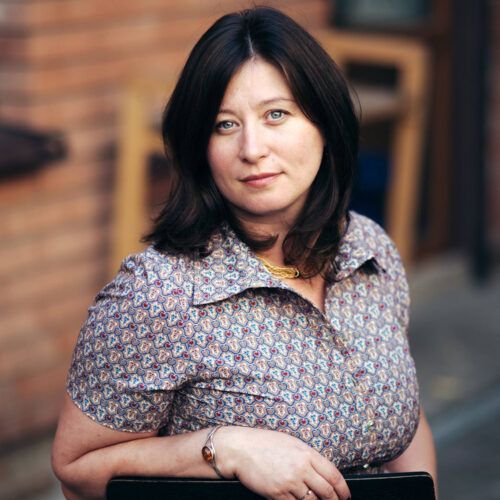 Halyna Kruk (1974) – poet, translator and literary scholar. Born in Lviv, where she also lives now. She published a number of poetry books, including Journeys in Search of a Home and Footprints on Sand (both 1997), The Face beyond the Photograph (2005), Co(an)existence (2013) and An Adult Woman (2017), as well as a collection of short stories Anyone but me (2021), honoured with the prize for the best book of 2021 in the Contemporary Ukrainian Literature category presented by the Publishers' Forum in Lviv and with the Kovalev Foundation Prize. She is a translator of poems by Wislawa Szymborska, Bohdan Zadura and Kazimierz Wierzynski, as well as prose by Jaroslaw Iwaszkiewicz, Weronika Gogola, Pawel Soltys and Stanislaw Lem, among others. Her poems are often published in Polish literary magazines and anthologies, including: Pociąg do poezji (2011; translated by Bohdan Zadura), Węzły, sukienki, żagle. Nowa poezja, ojczyzna i dziewczyna (2013; translated by Artur Fryz), Portret kobiecy w odwróconej perspektywie. 12 poetek z Czech, Słowenii i Ukrainy (2013; translated by Aneta Kaminska), Wschód – Zachód. Wiersze z Ukrainy i dla Ukrainy (2014; translated by Aneta Kaminska), Komiks wierszem po ukraińsku (2015; translated by Aneta Kaminska). Year 2018 saw the publication of selection of her poems entitled Wakacje nad Letą, followed by a collection of short stories Ktokolwiek tylko nie ja (translated by Bohdan Zadura) and a bilingual poetry book entitled Żywica (translated by Aneta Kaminska), both published in 2022. Halyna Kruk has been awarded the GAUDE POLONIA scholarship for the arts (Polish Ministry of Culture, Warsaw, 2003 & 2010) and the HOMINES URBANI scholarship in Villa Decius (Kraków, 2005). She is a member of PEN Ukraine. She is a professor of literary studies at Lviv National University.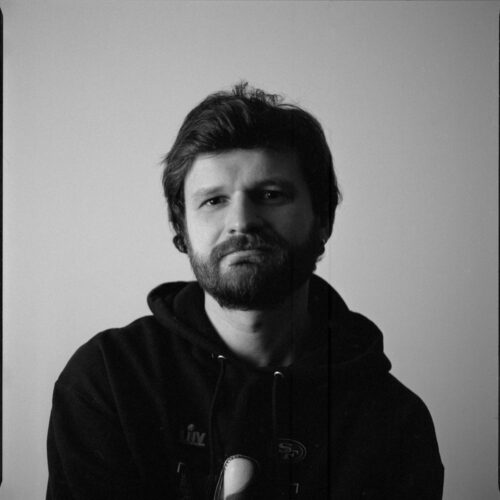 Dmytro Kuzmenko — a Ukrainian children's writer, an author of 17 books for kids, and an illustrator. In 2014 and 2018 he had the scholarship of "Gaude Polonia" program of the Ministry of Culture of Poland, accomplished his projects in the Warsaw Academy of Arts. In 2019 he won "The Best Book Design" award of the Ukrainian largest literature festival "Book Arsenal". In 2021 the Polish publishing house "Adamada" with the assistance from the program "Translate Ukraine" of the Ukrainian Book Institute published Dmytro Kuzmenko's book "#whatismaths?" with his illustrations. Father of 3 kids.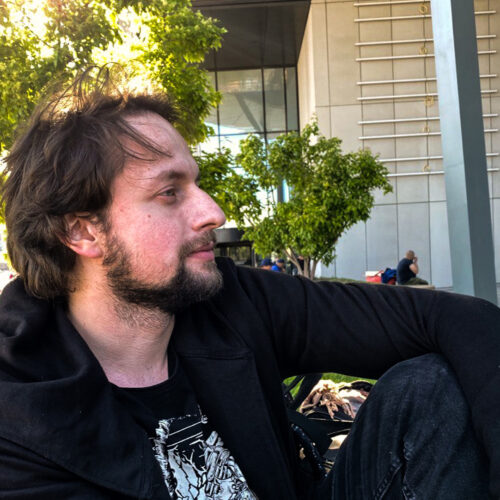 Сomic book artist and illustrator, an artist in the comic book series "Peremoha: Victory for Ukraine", "13th Hut" and "The Will"
Kyrylo is a multi-talented artist whose work spans the worlds of comics, gaming, and cinema. Highly experienced in his craft, he has a proven track record in game development, film production, and the TV industry.
Kyrylo's work can be found in a variety of notable projects, including "Victory", a comic book anthology featuring stories by most of Ukraine's most famous comic book artists. He is also one of the contributing artists to the upcoming third volume of the comic book series "The Will".
Currently, Kyrylo is working on a new Ukrainian comic book series called "13th Hut". This fantasy-action series follows the epic tale of Cossacks battling against dark forces.
In addition to his work in the comic book world, Kyrylo has also contributed to the creation of animated comic stories in the popular game "Warface".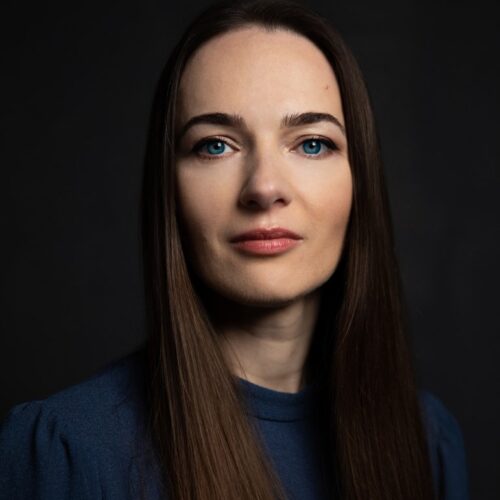 Oleksandra Matviichuk is a human rights defender who works on issues in Ukraine and the OSCE region. At present she heads the human rights organization Center for Civil Liberties, and also coordinates the work of the initiative group Euromaidan SOS. The activities of the Center for Civil Liberties are aimed at protecting human rights and establishing democracy in Ukraine and the OSCE region. The organization is developing legislative changes, exercises public oversight over law enforcement agencies and judiciary, conducts educational activities for young people and implements international solidarity programs.
The Euromaidan SOS initiative group was created in response to the brutal dispersal of a peaceful student rally in Kyiv on November 30, 2013. During three months of mass protests that were called the Revolution of Dignity, several thousand volunteers provided round-the-clock legal and other aid to persecuted people throughout the country. Since the end of the protests and beginning of Russian aggression in Ukraine, the initiative has been monitoring political persecution in occupied Crimea, documenting war crimes and crimes against humanity during the hybrid war in the Donbas and conducting the #LetMyPeopleGo and #SaveOlegSentsov international campaigns to release political prisoners detained by the Russian authorities.
Oleksandra Matviichuk has experience in creating horizontal structures for massive involvement of people in human rights activities against attacks on rights and freedoms, as well as a multi-year practice of documenting violations during armed conflict. She is the author of a number of alternative reports to various UN bodies, the Council of Europe, the European Union, the OSCE and the International Criminal Court.
After the beginning of new armed aggression in February 2022, Oleksandra Matviichuk together with other partners created the "Tribunal for Putin" initiative in order to document international crimes under the Rome Statute of the International Criminal Court in all regions of Ukraine which became the targets of attacks of the Russian Federation.
In 2016 she received the Democracy Defender Award for "Exclusive Contribution to Promoting Democracy and Human Rights" from missions to the OSCE. In 2017 she became the first woman to participate in the Ukrainian Emerging Leaders Program of Stanford University. In 2022 Oleksandra Matviichuk was awarded with the Right Livelihood Award and recognized as one of the 25th influential women in the world by Financial Times. The same year Center for Civil Liberties which Oleksandra Matviichuk head's for received the Nobel Peace Prize.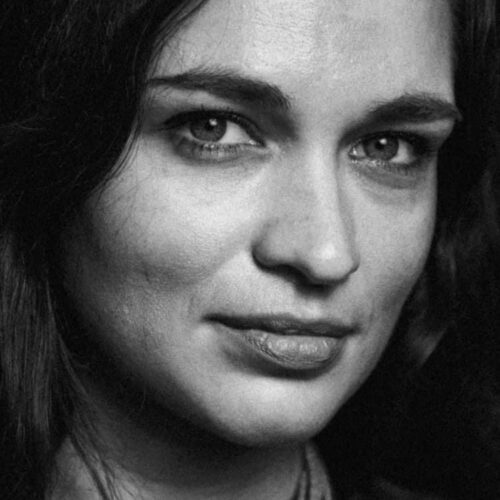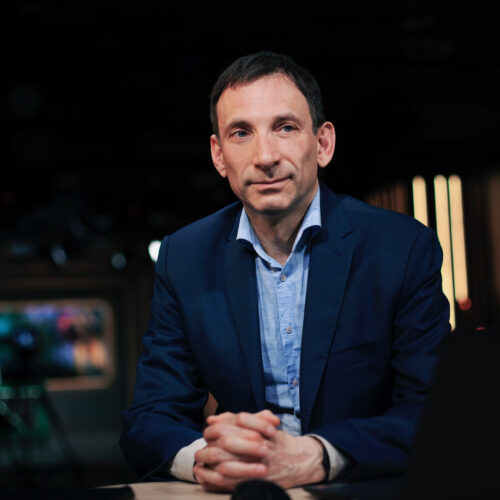 Vitaly Portnikov an author and renowned journalist working in democratic media in Central and Eastern Europe for more than three decades. He is the author of hundreds of analytical articles in Ukrainian, Belarusian, Polish, Russian, Israeli, Baltic media. He hosts television programs and his own analytical channels on YouTube. He is currently broadcasting at the office of the Espreso TV channel in Lviv and continues to cooperate with the Ukrainian and Russian services of Radio Liberty. On the Russian service of Radio Liberty, he continues the project about the post-Soviet space "Roads to Freedom", which was aired first from Moscow, then from Kyiv, and is now being produced in Lviv as a joint project of Radio Liberty, the Current Time TV channel and the Espreso TV channel.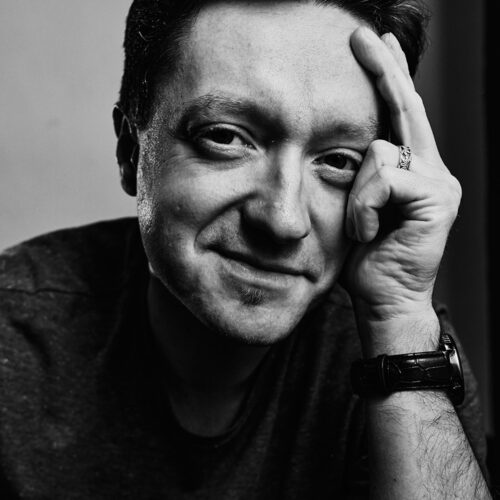 Ostap Slyvynsky is a Ukrainian poet, translator, essayist and scholar. He authored five books of poetry in Ukrainian, his poetry collections have been published in Germany, Poland, Czech Republic, Bulgaria, and Macedonia. Ostap Slyvynsky was the first program director of the International Literary Festival in Lviv in 2006–2007. In 2016–2018, he organized the literary project Literature Against Aggression and the public discussion platform Stories of Otherness (the series of public interviews with writers, intellectualists and civic activists who suffered from different kinds of social exclusion). Since 2021, he organizes PEN Ukraine's festival Propysy (The Writings) aimed at novice authors. He was elected the Vice President of PEN Ukraine in 2022.
Ostap Slyvynsky's main research interests are intercultural communication, comparative history of the literatures of East Central Europe, the role of literature and popular culture in the construction of historical memory. In 2007, he earned a PhD degree in Humanities. Нe is a frequent visiting lecturer at Polish, Bulgarian and Western European universities.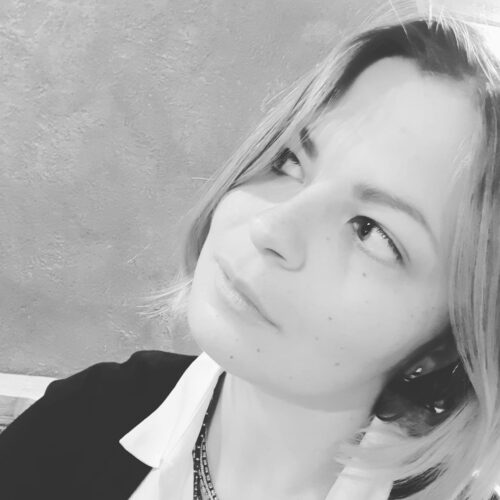 Mariia Shahuri is a Ukrainian cultural figure, translator (Polish, Ukrainian, English), editor, and co-founder of Kyiv Comic Con. She is engaged in a number of information and culture projects in Poland (Polskeradio.pl, culture.pl, Nowa Polska) and is the managing editor of the comics and SF&F series at the Kyiv-based publisher RM. Among her Ukrainian book translations are Reguła Zakonu by Piotr Górski, Bezcennyi by Zygmunt Miłoszewski, and the Justice League series from DC Comics. She graduated the Kyiv Mohyla academy with a degree in culturology in 2014.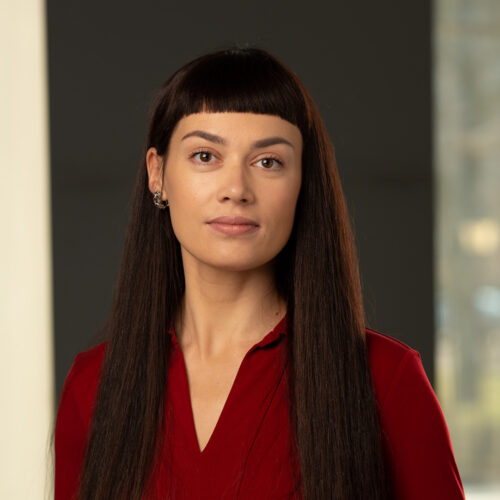 Svitlana Taratorina is a Ukrainian writer from Crimea. She is the author of the urban fantasy novel "Lazarus" (2018), the post-apocalyptic  Si-Fi novel "House of Salt" (2023), a number of short stories and comics. Her work has won LitAccent Literary Award in Ukraine and The CHRYSALIS AWARDS from the European Society of Science Fiction. She is the author of the title story "Language of Babylon" of the collection of Ukrainian fiction, which was published in Poland in 2022, the Stalker books publishing house is preparing a Polish translation of her novel "Lazarus".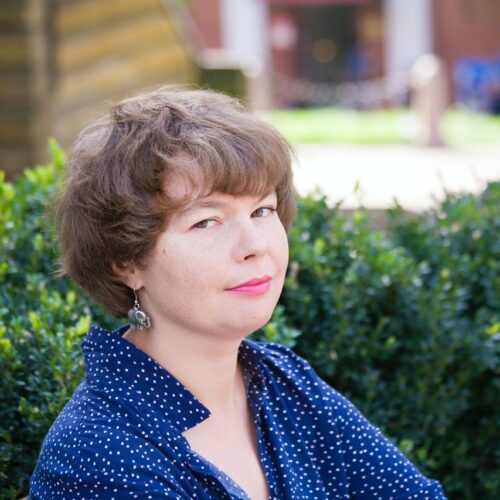 Halyna Tkachuk – author of 15 books for children and teenagers.
Studied comparative literature at the National University "Kyiv-Mohyla Academy", and graduated in 2010. Her children's books have won numerous awards in Ukraine, including the BBC Children's Book of the Year 2016. Also she is editor and translator of children's books, creative writing teacher for children and teenagers in various creative projects, and the manager of a reading clubs at the Shevchenko Central Library for kids.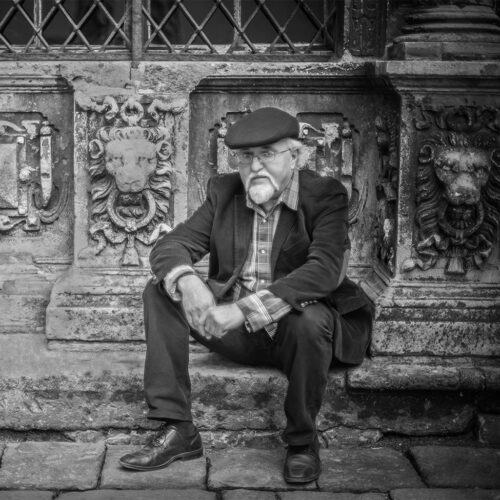 Yuri Vynnychuk, one of independent Ukraine's most popular writers, was born in the city of Ivano-Frankivs'k in 1952. Unable to have his own works published until the early 1990s due to Soviet cultural policy, Vynnychuk would publish them as «translations» from ancient languages (Irish, Welsh) or even made up languages such as Arcanumian.
Unable to obtain employed as a philologist, he worked as a freight handler and a painter. In 1987 he cofounded the cabaret theater Ne Zhurys'! (Don't Worry!), writing songs and scenes for its performances. Since 1990 he has worked as a journalist and has been sued over 30 times over this period of time for his scandalous articles. His latest brush with the law was in 2012 due to the publication of his poem «Kill the Bugger» about the President of Ukraine, Viktor Yanukovych, in which Yanukovych is outwardly referred to as a crook. Vynnychuk received the honorary title of Halyts'kyi Lytsar (Galician Knight) in 1999 for his weekly article written under the pseudonym Yuzio Observator (Yuzio the Observer) in the Post-Postup newspaper.
Since 1990 he has been publishing everything that he had written over the years but had remained unpublished. This includes poetry, short stories and the novels Vesniani ihry v osinnikh sadakh (Springtime Games in Autumn Orchards, 2005) and Tango smerti (Tango of Death, 2012). Tango smerti was awarded the prestigious BBC Book of the Year prize for 2012. In the following years the novels Pharmacy (2015), Censor of Dreams (2016), Lutetia (2017), Sisters of Blood (2018). He has also authored many popular publications covering the history of the city of L'viv; his immensely popular two-volume set Lehendy L'vova (Legends of L'viv) is republished every year. He is also the author of retro detective stories about Lviv 1938-1940, translated into English.
His books were published in the USA, France, Austria, Poland, Czech Republic, Bulgaria, Serbia, Croatia, China, Netherlands, Israel.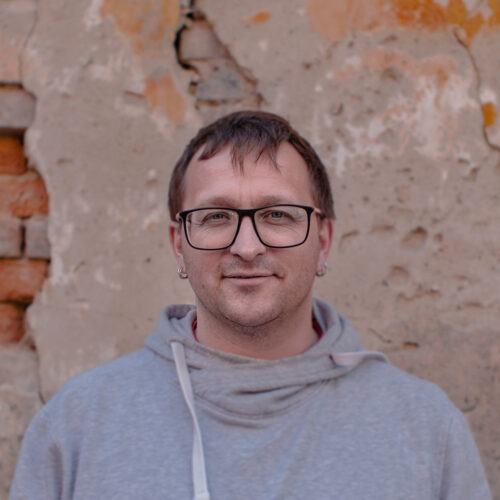 Yury Zavadsky – poet, publisher, musician, literary scholar and social activist. Experimenter and performer. Doctor of philological sciences. He is known in Ukraine as an extreme poet, constantly searching for new means of expression and poetic genres. Among other things, he creates characteristic phonetic poetry – poems without words, in which sounds and syllables play the main role. Participant in numerous musical projects. He has published 10 volumes of poetry. Translated into many languages, published in Poland, Denmark and the Czech Republic. FORMA published a selection of poems "Free Man Has Not Yet Been Born" (FORMA 2019), translated by Marcin Gaczkowski. In addition to his own work, he is involved in translation and publishing; he is the founder and head of Krok Publishing House. He lives in Ternopil.
---
The organizers reserve the right to change.